The Magnificent Imagination Club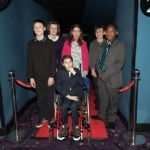 In collaboration with 'The Junction - Cambridge,' Spring Common Academy is proud to announce our very first world film premier...
THE MAGNIFICENT IMAGINATION CLUB
STOLEN LOVE - Film Premier - 20 April 2017
Since September 2016 the Key Stage 4 Creativity Drama group (aka The Magnificent Imagination Club) have been busy devising, writing, rehearsing, performing, filming and editing their very own film 'Stolen Love.' The film was shown at a special event in The Light Cinema in Cambridge. We were fortunate enough to be able to take most of the students from Upper School along where they thoroughly enjoyed the occasion: dressed to impress and tucking into popcorn, provided as part of the experience! The filmmakers themselves were given special awards by The Junction who were supported in this endeavour by local businesses.
Staff from The Junction have also been providing training to school staff with how to use drama effectively in the classroom, encouraging creative ideas, along with how to use iPads for filming. We have since invested in a 'green screen' which has had a lot of use already! We would now like to improve our films further by investing in microphones and tripods.
The film will be shown to other students in school over the coming weeks. We are hopeful that the film and all of the continued investment in these creative opportunities will go a along way to helping our students achieve their Bronze Awards and for the school to attain Gold Artsmark status.
Go to our Gallery to view the photos
---
Click the highlighted text below to read the press release article
---