Mother's Day - Restaurant Day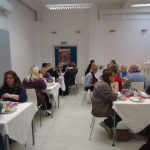 The Restaurant Day for Mother's day was a huge success, with families commenting on how fantastic everything went.
A huge thank you and congratulations has been passed on to everyone involved in the Mother's Day Restaurant Day. The whole event was a huge success, and parents and grandparents were keen to let us know how much they enjoyed themselves.
Roxanna's grandparents passed a message onto the school:
"I am contacting you to say, I have just attended your restaurant day mothers day lunch. We thoroughly enjoyed it and I would like to especially thank Owen on his reception skills, also, Abi, Jessica and Sam on their skills of taking care of us. Would you also please thank and congratulate all who did the food and preparation of the lunch. We are now looking forward to the next one. Thanks also to all the staff for their dedication."