Lunch Menus
Hot Lunches
---
Hot lunches at Spring Common Academy are provided by Edwards and Blake
catering service.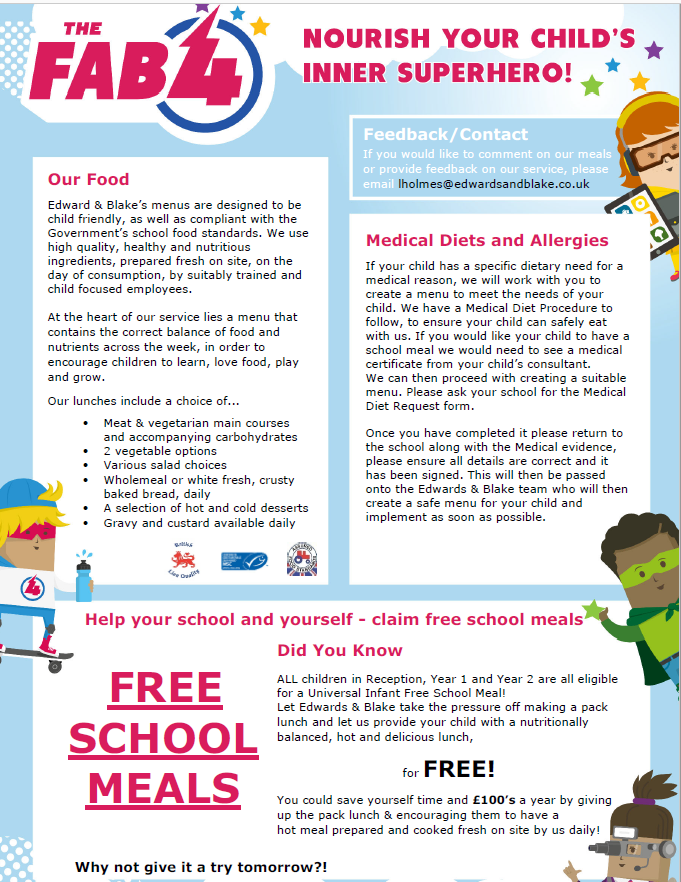 If you think you may be entitled to free school meals and would like to find out more, please go to www.cambridgeshire.gov.uk/freeschoolmeals, or you can look at the guidance information on our website by clicking here to go to the Pupil Premium area.
---
NEW MEAL CHARGES FROM SEPTEMBER 2017
From 1st September 2017 the cost of a school meal is increasing by 5p per day:
SCHOOL MEAL COST: £2.30 per day - £11.50 per week
STAFF and VISITORS MEAL COST PER DAY: £3.30 two course meal or £2.20 for a light lunch
PAYMENT: Cash
CHEQUE - made payable to Spring Common Academy
BACS payment - please contact accounts@springcommon.cambs.sch.uk for more details.
---
spring term MENU 2019
Please click on the blue highlighted 'Week' number to download each menu.
---
Weeks Commencing: 22nd Apr, 13th May, 3rd Jun, 24th Jun, 15th July, 16th Sep, 7th Oct
---
Weeks commencing: 29th Apr, 20th May, 10th Jun, 1st Jul, 23rd Sep, 14th Oct
---
Weeks commencing: 6th May, 27th May, 17th Jun, 8th Jul, 9th Sep, 30th Sep, 21st Oct