Outstanding Teaching Assistants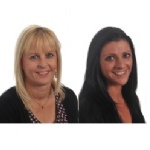 Huge congratulations to Teaching Assistants Nikki Weaver and Mandy Alford who were awarded an 'Outstanding Achievement Award' by Cambridgeshire Local Authority for their work with two of our pupils - Millie and Phoebe.
Spring Common Academy are very proud of our Teaching Assistants, especially when their achievements are noticed both in and out of school. This week, two Teaching Assistants received 'Outstanding Achievement Awards' for the amazing work they have done with Millie and Phoebe. Congratulations to Nikki Weaver and Mandy Alford!