Post 16 - Godmanchester Nature Reserve 2017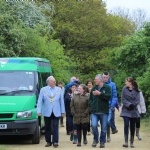 The Mayor opening Post 16's newly completed viewing fence at Godmanchester Nature Reserve.
This term, Post 16's Functional Skills group have been preparing for adulthood, developing their skills in the wider community.
Each week, the students have visited Godmanchester Nature Reserve as volunteers, working with local members of the Wildlife Trust, learning skills in: teamwork, health and safety, conservations and horticulture - all of which are designed to help them make choices for the future.
The 3rd of May 2017 saw the Mayor presiding over the grand unveiling of the willow bird viewing structure: built by our students and supported by volunteers of The Wildlife Trust's local members. You can view more photos of this lovely event in our gallery.
There is a strong community partnership between our school and The Wildlife Trust's members at Godmanchester Nature reserve, and their volunteers support our students with a variety of skills both on and off site. During cold and wet weather, the staff come into school with planned activities relating to the nature reserve, extending our students learning whilst keeping the momentum and collaboration thriving and strong.
We will continue to update our website with the exciting progress our students are making. If you would like to find out more about The Wildlife Trust go to: www.wildlifetrusts.org You can use the 'find a wildlife trust' tab to see what is in our area and you can also follow the Godmanchester Nature Reserve on Facebook by typing 'Godmanchester Nature Reserve' into your Facebook search bar.
Finally, please take a look at the links:
The Wildlife Trust's news article: http://www.wildlifebcn.org/news
Cambridgeshire News article:
http://www.cambridge-news.co.uk/news/cambridge-news/godmanchester-nature-reserve-viewing-fence-13003563