Parent's Maths Workshop May 2017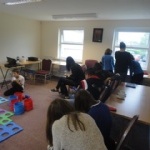 Parents were offered an exciting opportunity to work alongside their child in a Mathematics Workshop.
On Wednesday 17th May and Thursday 18th May, Spring Common Maths coordinators (David and Amanda) invited parent/carers of Key Stage 2 and 3 children to attend Maths Workshops. Parents worked with their children to complete functional activities using resources such as iPads, giant Numicon and money. Everyone enjoyed the sessions which proved to be very successful.
Please click here to view some photos of the event.