Restaurant Days - 10th Anniversary - May 2017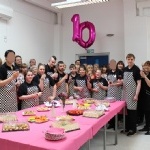 Restaurant customers, parents/carers, grandparents and partnership professionals were invited to celebrate the 10th Anniversary of Restaurant Days at Spring Common Academy.
Team 16 celebrated 10 years of Restaurant Days in May 2017 by hosting an Anniversary Buffet Lunch. Restaurant customers, parents/carers, grandparents and Partnership Professionals who have supported this Work Related Enterprise were all invited.
Students had to plan for the event in advance and spent the morning preparing a buffet lunch, demonstrating team working and food preparation skills. They stepped right up to the mark and should be thoroughly proud of themselves for producing a fantastic looking buffet and providing a warm welcome for their guests.
The Life Skills Suite was opened by Sir John and Dame Norma Major in 2006 with Restaurant Days launching in January 2007. Ever since then the suite has enabled students of all abilities to access facilities appropriate to their skill level. Our 'Restaurant Days' is designed to give students a real opportunity to experience working in, and running a restaurant. It was wonderful to see those skills demonstrated to a high level on the 10th Anniversary Celebration and lovely to see the day supported by all of our special customers. We extend a big Thank You to everyone involved.
Please go to our GALLERY to view some of the photos from the day.