International Day 2017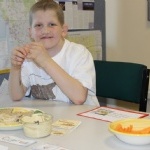 On Friday 26 May 2017 the whole school participated in a Commonwealth Countries themed International Day.
The day involved pupils visiting classrooms across the school to experience culture from different countries. They were given opportunities to join an Indian Drumming workshop led by Adey Peterkin, International Dancing delivered by Bedazzle and an Art Workshop led by our very own Beth, where the pupils painted a commonwealth flag onto a pebble. Class 11 hosted adapted ball activities in the gym and Class 10 hosted outdoor sports activities, including elements of rugby.
Around the school each class had cultural boxes to link facts about countries to artefacts/pictures. Along with this the pupils had lots of other interactive activities to experience, including mapping skills and the ever popular cultural food samples offered in each class.
The day finished with a whole school assembly where we saw more drumming and dancing, before listening to what everyone had enjoyed and created throughout the day.
A big Thank You goes out to all parents, pupils and staff for making International Day 2107 a huge success. It was truly amazing to see pupils dressed in the colours of their commonwealth country as they engaged in the activities around the school.
Please go to our Gallery to view a sample of the photos taken on the day.