Pathways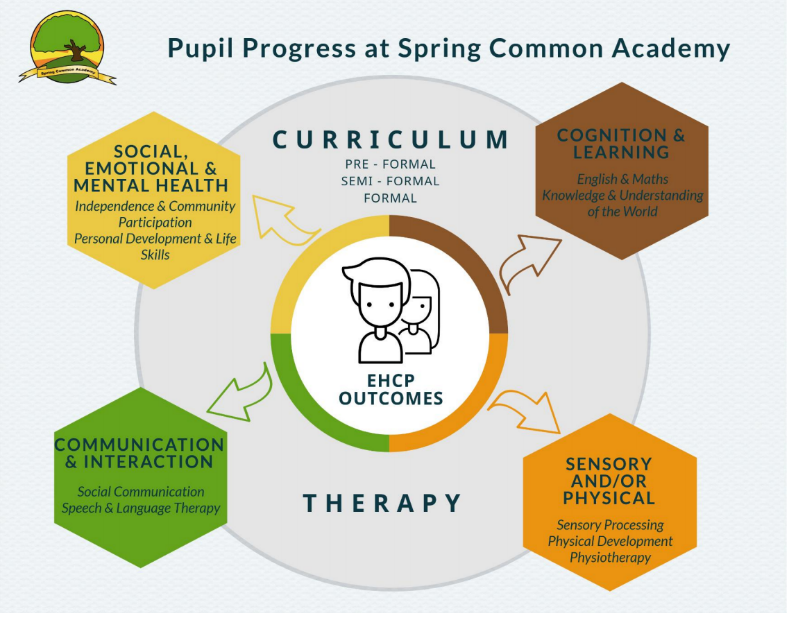 Pre-formal curriculum
The pre-formal curriculum does not teach; it promotes learning through explorative play and curiosity.
The focus in the pre-formal curriculum is on the basics of cognition, communication, and emotional and social development.
Every moment and situation is seen as an opportunity to interact and communicate.
The pre-formal curriculum is an integrated curriculum accessed through personalised support. Learners interact with the world around them through observing and exploring that world.
Play provides opportunities for pre-formal learners to encounter the world and to develop their curiosity. Within their play, learners may reach, hold, explore and encounter sensory items and stimuli, experience cause and effect, light and dark and sounds of different frequencies. In the earliest stages of play, (sensorimotor) exploration of the world is spontaneous through touch, smell, taste as well-being aware how things look and sound – these are naturalistic experiences.
It is important that pre-formal learners are able to explore the physical world as independently as possible as this enables opportunities for communication and cognitive development, therefore we encourage and support mobility to allow exploration. By exploring, learners begin to discover more on their own, and begin to learn to think for themselves.
For our pre-formal learners, feedback helps them to identify the learning outcome and celebrate success. Where appropriate, the next step may be identified.
Semi-formal curriculum
The semi-formal curriculum does not focus on the didactic teaching of content, instead it promotes learning through encouraging inquiry and developing attitudes such as curiosity, the desire to experiment and challenge, and the sharing of ideas.
The semi-formal curriculum focuses on the development and exploration of thinking skills for learners with severe and complex learning difficulties.
Learning, rather than the memorising of facts, becomes a way of thinking, of trying to understand the world, and of determining one's identity within that world.
Thinking skills, including the making of more abstract connections, are developed through themed approaches with focused learning opportunities that introduce content appropriate to the individual's cognitive processing capabilities.
Semi-formal learners are encouraged to engage with the wider environment. By providing opportunities to explore, we are providing learners with opportunities to construct their own knowledge. These experiences can be naturalistic, informal or structured.
Naturalistic or spontaneous experiences are where the learner controls choice and action;
Informal experiences are where the learner chooses the activity and action, but adults intervene at some point;
Structured experiences are where the adult chooses the experience for the learner and gives some direction to the learner's action.
Formal content is introduced at appropriate stages matched to the learner's cognitive processing capabilities.
Most experiences are delivered through related themes and topics. Opportunities for informal experiences may be provided through play sessions.
Enquiry through problem-solving does not require learners to discover everything for themselves, but they are supported to relate new knowledge and content to previously learned knowledge and to experiential learning. Adults facilitate this process through asking relevant questions.
Semi-formal learners gain experience through structured problem-solving activities that build on previous informal experiences, where the driving force is curiosity—an interest in finding out.
Research shows that structured problem-solving and reflective play are important factors in the development of thinking and learning skills.
For our semi-formal learners, feedback needs to be related to the learning outcome, and focus on both their achievements and their next steps.
Formal curriculum
The formal curriculum builds upon and extends the knowledge, skills and understanding introduced through the semi-formal curriculum, and adheres to the requirements of the National Curriculum. Formal learners have opportunities to access both academic and vocational accreditations.
The formal curriculum develops learners' abilities through providing learners with meaningful, engaging contexts for learning and providing appropriate accreditation pathways and opportunities across our Key Stage 4 and Post-16 provisions.
For our formal learners, feedback is given to the pupil in relation to learning outcomes and next steps; where appropriate this should also be recorded on their work.